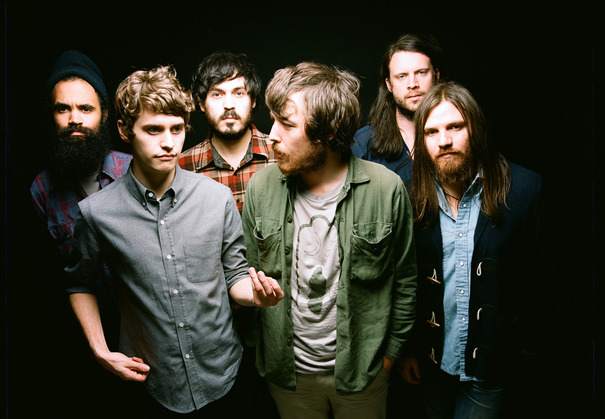 Over my years at SxSW, there have been exactly two bands that I've broken into a sprint to see. One of these bands was the Fleet Foxes in '08 (the other was Local Natives at the San Jose in '09).  As I entered Emo's, panting and cramping, I grabbed a beer and water before sitting down in a near empty bar. I proceeded to see the greatness that is Fleet Foxes.
At the end of the set, I approached the stage to talk to Robyn Pecknold. Okay, I approached the stage to beg him to come in for a HearYa Live Session, which he was down with it at the time.  As we concluded our conversation, I told him "You guys are going to huge. Get ready for a crazy ride." He softly chuckled and said "You think so?"
Releasing a sophomore album after an amazing debut is tricky. Are they going to change their musical direction? Alter their sound?  Experiment to a point where their identity is lost? Fleet Foxes posed no such worry for me.  They are a band comfortable in their skin with an ability to enjoy their rising popularity with good humor and grace.
The album's title track is one of the best songs of the year. It's broken into two parts and Robyn Pecknold's vocals envelope you with warmth and comfort. They exit the bridge at 2:50 and Pecknold's voice soars above a shimmering electric guitar, sending chills down my spine.
If I had an orchard, I'd work til I'm raw
If I had an orchard, I'd work til I'm sore
You would wait tables and soon run the store
Gold hair in the sunlight, my light in the dawn
If I had an orchard, I'd work til I'm sore
If I had an orchard, I'd work til I'm sore
Someday, I'll be like the man on the screen
Upon hearing the second single, "Grown Ocean," I was convinced I should be ready for greatness. And greatness is what I got. Pecknold lists "Into The Mystic" as a major influence for Helplessness Blues. While Helplessness Blues isn't quite ready to be included in that same category, you can't help but feel that they aren't far off. The reflective opening lines on the first track, "Montezuma," invite you into an album full lush harmonies, orchestration, and production. It's amazing.
On the SubPop site, Pecknold talks of how the band got to to point of Helplessness Blues. I liked the way he wrapped it up.
It's called Helplessness Blues for a number of reasons. One, it's kind of a funny title. Secondly, one of the prevailing themes of the album is the struggle between who you are and who you want to be or who you want to end up, and how sometimes you are the only thing getting in the way of that. That idea shows up in a number of the songs.
I'm sure you didn't need to read this review to convince you to buy the album or check out the Fleet Foxes. I was just so swept up in this album that I felt I needed to write something. Lucky for me, I've got me a blog. Now I just got to work on getting me an apple orchard.
Fleet Foxes – Helplessness Blues
Video: Fleet Foxes – Grown Ocean

{ 5 comments }