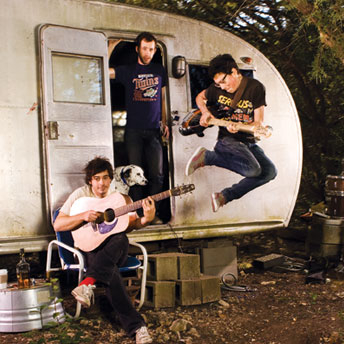 White Denim just released a free album on their site, so now seems like a good a reason to finally toss up a review of their last album, Fits. They are also going to be doing some dates with Portugal, The Man. I have yet to catch them live, but they were one of SafariMan's favorite sets down at SxSW.
And the winner for most aptly named album of 2009 is Fits. I have been apprehensive to write anything about this disc. There's so much shit going on during the 37 minutes of playing time that I don't know where to being. It's as if they pulled every influence imaginable out and dared themselves to fit every last one in, much like my 3 year old twins bounce from toy to toy.
The opening track, "Radio Milk How Can You Stand It" starts off with an old Chili Peppers feel to it, and by old, I mean 80's Peppers. And then somewhere around 2:30 mark, it veers off to sounding like a Zappa tune. I would have loved to have heard the band dialogue when writing this tune. "Do you think we can mash "Me & My Friends" and "Peaches En Regalia" together in four minutes? I have 5 bucks that says we can"
"Say What You Want" has a great guitar lick and feels like a tune off The Dirtbombs' Ultraglide In Black. "I Start To Run" has a retro funk thing going on. "Sex Prayer" sounds like something Ray Manzarek would play back in the day. By the time they got to "Regina Holding Hands: I was thoroughly confused, bewildered and exhausted. But I loved the album.
And now here's the crux of my dilemma – I feel like I am selling these guys a short by comparing them to other artists. They are insanely talented and creative and deserve all the accolades afforded to them. I didn't quite get them on their initial efforts, but I'm finally on the White Denim path now.